Your unique online presence
TCH-Support and websites/online stores
Our online store portfolio
Your homepage: Reliable, functional and attractive
Here's why we are your partner for websites/online shops:
These companies have already put their faith in us
TCH-Support and websites/online stores
They are the linchpin of a modern business, but are sometimes underestimated, because websites today are so much more than a first impression. This is where important (purchase) decisions are made, often in just seconds. Besides the obvious things like structure and design, these decisions are also significantly influenced by supposedly little things like usability, loading speed, compatibility with ad tools, mobile view (responsive design) and even more.
We can offer professional websites from a single source. We have a lot of experience with various suppliers. Our portfolio includes market leaders such as Joomla, WordPress, TYPO3 and WebEdition. We are also particularly experienced in complex Joomla or WordPress systems – for example on large websites with many requirements such as document management, provision to association members or customers, authorization management, reservation systems for hotels or complex PHP requirements.
Request here without obligation!We are also registered in the Joomla Service Provider Directory and are happy to be your competent partner for the Joomla CMS.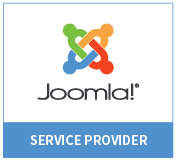 We are also registered in the Joomla Service Provider Directory and are happy to be your competent partner for the Joomla CMS.
Our online store portfolio
Anyone who wants to sell products online needs a good online store. We see ourselves as a full-service provider and expert in all things regarding online shopping. Our goal is always the economic success of our customers. We lay the foundations of this right from the first consultation.
What can we do for you?
We help set up your online store

We provide assistance with legal issues (e.g., terms and conditions, revocation)

We ensure seamless connection to shipping service providers' freight management systems

Versanddienstleistern

We integrate the online store into existing shops or stores

We advise you in the search for personnel

We offer you special seminars and experts for issues such as export

We also create very special online shops, for example for weight-based products



Here's why we are your partner for websites/online shops:

As a premium provider, it is our duty to provide you with comprehensive information about the many possibilities your website or online store has to offer and to select the product that is right for you and your business. We advise you on choosing a suitable design, help you structure the menu, select the appropriate image material for you or with you, give useful insider tips on how to keep users on your site, make all necessary data protection settings and work (as required) with the best individual program.
Of course, if necessary, you will receive a corresponding order processing contract for our work in accordance with the General Data Protection Regulation.
These companies have already put their faith in us
TCH-Support UG (haftungsbeschränkt) and this site is not affiliated with or endorsed by The Joomla! Project™. Any products and services provided through this site are not supported or warrantied by The Joomla! Project or Open Source Matters, Inc. Use of the Joomla!® name, symbol, logo and related trademarks is permitted under a limited license granted by Open Source Matters, Inc.
© MandvilleTeam LeaderTrademark & Licensing Teamtm.joomla.org